For the 5th year, we are pleased to announce that we have been awarded the 2023 TripAdvisor Traveler's Choice Award! We cannot thank you all enough for those of you who have adventured with us & left us such amazing reviews!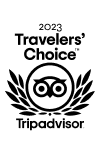 "My wife and I have travelled a lot over our 25 years of marriage and normally plan everything ourselves. When we started looking at Alaska, it was overwhelming about where to go, what to do, and with whom to schedule "adventures" with. When we found AAU, it looked like their 10-day Grand Discovery Tour had a great mix of educational opportunities and activities. It is rare that something exceeds our expectations, but this tour definitely did. Most importantly, everything was as advertised. All details of the trip were taken care of and occurred as planned; it was very smooth. We were tentative about traveling with a group, but AAU's small group (ours was 13) allowed some genuine relationships to form, but there was still freedom at times to be on your own. The various experiences led by their partners (whitewater rafting, walking on a glacier, whale-sealift-glacier cruise, etc.) were amazing and professionally done. Lastly, our diver and tour guide (Dorothy) was amazing. As a native Alaskan, she knew just about everything. She frequently shared information while we were riding to our next location, and she was expert about information when we arrived. She also worked in other stops not on the official list that provide "local Alaskan" flavor. She also did an amazing job keeping the 15 passenger tour bus (which is very spacious by the way) clean at all times during our travels. I very, very rarely take the time to review anyone or anything. Even before my trip was over, I knew I would make the effort when I returned so others could experience the wonderful time we had when visiting Alaska themselves. This was an excellent experience, and if you are looking to learn about Alaska during your trip and have a ton a fun doing it, I would definitely consider using AAU. If you do, make sure to select the Gold Star on the Alaskan Train; you will not be sorry you spent the extra money." 2023 AAU Guest
We appreciate all of your kind words & love that we can be part of your lifetime memories. Thank you for helping us earn the 2023 TripAdvisor Traveler's Choice Award. Please continue to share your photos & adventure stories with us for years to come.